So I have a MAJOR addiction to makeup as some of you may know, but what you may not know is that I am in LOVE with
Urban Decay
. Their products are amazing and one of my favorite things is their
Book Of Shadows
. Some of you may have heard of the
Book Of Shadows pallets
, they are limited edition pallets that are just simply amazing. =)
Now most of the
Book Of Shadows
pallets come with the 16 eye shadows and 2 eye pencils. But this one is Different! =)
This comes with the 16 eyeshadows of course, but it also comes with a travel size Primer Potion, a travel size Supercurl Curling Mascara, and a FULL SIZE 24/7 Waterproof liquid eyeliner!! And lets not forget...... A Mini Speaker and a cord!! So you take the cord, plug it into the speaker and then to your phone or ipod! And the speaker puts out good sound too, I like it. Plus it has a clip on it, so you can carry it like a keychain. =)
Now the 16 colors are Blue Bus, GunMetal, Cobra, Baked, Bender, Gravity, Lost, Hijack, Midnight Cowgirl, Sin, Midnight Rodeo, Crystal, Bust, Missionary, Skimp, and Zephyr. And here are some swatches for you. =)
Shadows are, From Left to Right:
Blue Bus, Gunmetal, Cobra, Baked; Bender, Gravity, Lost, Hijack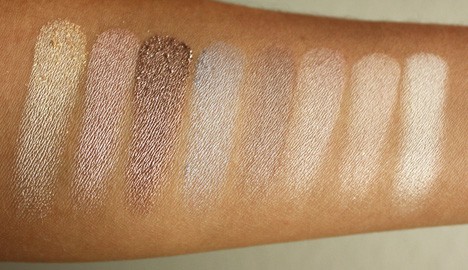 Shadows are, From Left to Right:
Midnight Cowgirl, Sin, Midnight Rodeo, Crystal; Bust, Missionary, Skimp, Zephyr
The eyeshadows are great! Like almost all other

Urban Decay

eyeshadows they are highly pigmented, smooth, and they stay on all day. I use the primer potion and I never have any problem with creasing or fading, which I love.
All in All, I LOVE this

Pallet

. I like that they replaced the two mini eyeliners with the full size liquid liner, because although I love the pencil liner, I have been waiting to get a Liquid Liner, and I love it. It is easy to use and can create a sharp line, or can be smudged. And the speaker! I love the speaker, I plug it in to my phone and rock out while Im doing my makeup. It's a lot of fun. =)
So some pro's and Con's:
Pros:
Great new products

Limited Edition Colors

100% Cruelty Free

Creative Beautiful packaging.
Cons:
Expensive

Some shades are to glittery, Some are to sheer

The pallet is a little big and clunky.
AND AND AND!
If you go to

Urban Decays website

they have this pallet on sale for $44.00! Plus you get an extra $15 off when you enter the code SEVENTEEN11!! And that's a really good deal, because it's originally $64!
Have a great day!!! =)